Published three times a year in January, May and September. Articles are written in English. Print ISSN 0852-257X, online ISSN 2086-6682. Formerly, the name of the journal was Jurnal TANAH TROPIKA (Journal of Tropical Soils) and then  became online as Journal of Tropical Soils.
Journal of Tropical Soils publishes all aspects in the original research of soil science (soil physic and soil conservation, soil mineralogy, soil chemistry and soil fertility, soil biochemistry, soil genesis and soil classification, soil survey and land evaluation, land development, environment management), and related subjects in which using soil from tropical areas.
Journal of Tropical Soils is indexed by Google Scholar and ISJD (INDONESIAN SCIENTIFIC JOURNAL DATABASE); registered in and indexed by DOAJ (Directory of Open Access Journals), Academic Journals Database, crossref member since 2009 (crossref.org), and EBSCO PUBLISHING since 2013, SINTA, and accredited B by Directorate General of Higher Education of Indonesia (DIKTI), SK No. 200/M/KPT/2020, 23 Desember 2020.
Parent DOI: 10.5400/jts.
 Profile in Google Scholar (Google Portal):
| | | |
| --- | --- | --- |
| Cited by | All | Since 2017 |
| Citations | 2811 | 1800 |
| h-index | 24 | 18 |
| i10-index | 98 | 60 |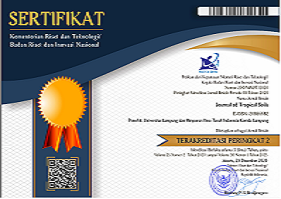 Announcements
Conference Collaboration

Journal of Tropical Soil and Indonesian Soil Science Society (HITI) Commissariat Lampung in collaboration with the Department of Soil Science, Faculty of Agriculture University of Lampung will held national conferences  with the theme "Agricultural Technology Innovation in Supporting Sustainable Agriculture" on July 7, 2022. For details, please visit: https://semnashiti.unila.ac.id




Posted: 2022-05-12
Vol 28, No 2: May 2023
Table of Contents
Articles
| | | |
| --- | --- | --- |
| | zenny faridatus sa'diyah, Sugeng Prijono, Retno Suntari, Zaenal Kusuma | 39-45 |
| | | |
| --- | --- | --- |
| | Yagus Wijayanto, Muhammad Aldian Dwi Kustianto, Subhan Arif Budiman, Ika Purnamasari | 47-56 |
| | | |
| --- | --- | --- |
| | Astriana Rahmi Setiawati, Jamalam Lumbanraja, Ananda Ika Kurnia, Manarul Hidayat, Septi Nurul Aini, Dedy Prasetyo | 57-70 |
| | | |
| --- | --- | --- |
| | Rakhmiati Rakhmiati, Etik Puji Handayani, Jamaludin Jamaludin, Raffel Jubili Sitompul | 71-77 |
| | | |
| --- | --- | --- |
| | Wanti - Mindari, Purnomo Edi Sasongko, Setyo Budi Santoso | 79-87 |